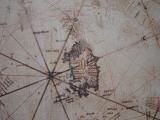 Just posted a new chronicle on the
Principality of Galatea's blog
. This time, the action is set in the Kingdom of Arborea/Sardinia, shortly after the arrival in Monte-Cristo of the Catalan/Galatan legate Marquis of Vilana; on his way to the Presipality, Vilana had left a mysterious missive to be delivered to the island's Imperial Viceroy, Count of Erill (a Galatan subject, by the way).
I've taken advantge of context for posting some supplementary sets of flags on my blog, this time devoted to the Holy Empire's land and sea flags. These come to increase my current collection, that can be freely downloaded from the
National Library
of Galatea.
Besides, a storm is about to break upon the Galatan battlefields, while the Two Crowns armies keep their slow but apparently unstoppable progression towards the Principality's capital city, Barcinona. Battle chronicles to follow shortly...